It's that time of year again! After months hibernating and self-isolating with our favourite cosy hoodies, matching tie-dye and non-tie-dye sets and sustainable sweats, we're coming out of our cage and doing "just fine." Why? Well, because it's crop top season, bbyyyy.
Back in August, when President of the United States Donald Trump cut funds to the U.S. Postal Service in an attempt to delay postal votes in the lead up to the November election, a USPS-branded long-sleeved crop top featuring a rainbow of colourful envelopes print went viral, quickly selling out that weekend, per The Guardian. Then, upon the universal love for The Himbo, people on Twitter began sharing relics of the past: images of hot, buff boys in the 70s to 90s in crop tops. Needless to say, it's a look and as far as we see it, it's back in fashion.
Things may still look a bit grim for Victorians but, as Fashion Journal's Anna Richards sees it, the time in social lieu and lockdown could make the end of this year the best "hot girl summer" yet. The Northern Hemisphere has had its fair share of summer fits and crop top summer—I mean "WAP" and Chromatica was made to be fun, sexy and flirty in the sun—and now, us Southern Hemisphere guys, gals and non-binary pals can get a lil crop'd, as a treat.
Last weekend, I did my bi-monthly visit to my favourite vintage store—Vintage 313 in Newtown, Sydney, FYI—and was greeted with a plethora of short to mid-length cut tops—tie-dye crop tees, long-sleeve sweater crops, subversive gender-neutral button-up crops, you name it, they had it. I was, like a British backpacker during an Aussie summer in Bondi Beach, in sun-kissed summer awe.
And we're not alone, all your faves are saying, "suns out, tums out 😎." Syrup fave Tara Chandra recently wore a printed white baby crop singlet, styled with lovably baggy jeans, chunky white sneaks and a mini underarm bag.
During the European summer, style icon Sophie Lin shared a bunch of fits featuring cropped-items from crop tees to crop button-ups. Meanwhile, TikTok fashionista Nava Rose made sure that we all knew about the forthcoming crop-pocalypse with her grey cropped printed tee and chest harness combo. Resident Syrup fave Lil Nas X has also been a big fan of the cute lil bold coloured crop jacket for a while. He debuted a mint green crop blazer at the American Music Awards in 2019 and wore a cropped bedazzled leather jacket for his hot pink cowboy fit at the 2020 Grammys.
So, if you're looking to add a little midriff to your wardrobe here's your one stop shop for all things crop top and how to style them.
Best Crop Tops In Australia
Alexander Wang
Acid Wash Logo Crop Top, $200 on Alexander Wang.
Serapis
Pink Twirl Single Sleeve Shirt by Serapis, $160 on SSENSE.
Fiorucci
Woodland crop top by Fiorucci, $137 on Farfetch.
ALUF
Cedro cropped shirt by ALUF, $312 on Farfetch.
Cinq A Sept
Kaitlyn cropped top by Cinq A Sept, $502 on Farfetch.
Olympiah
Papa cropped top by Olympiah, $223 on Farfetch.
We Are Kindred
Jessa cropped top by We Are Kindred, $179 on Farfetch.
Zimmerman
Bellitude cropped top by Zimmerman, $395 on Farfetch.
Love Moschino
Love Moschino multi logo cropped T-shirt in black multi, originally $247 but on sale for $140 on ASOS.
Missguided
Missguided co-ord colour-block oversized crop T-shirt, $30 on ASOS.
Lazy Oaf
Lazy Oaf Waste Of Time Velour Lounge Top, $81.17 on Lazy Oaf.
Lazy Oaf Giddy Up Rib Top, $63.13 on Lazy Oaf.
Marek+Richard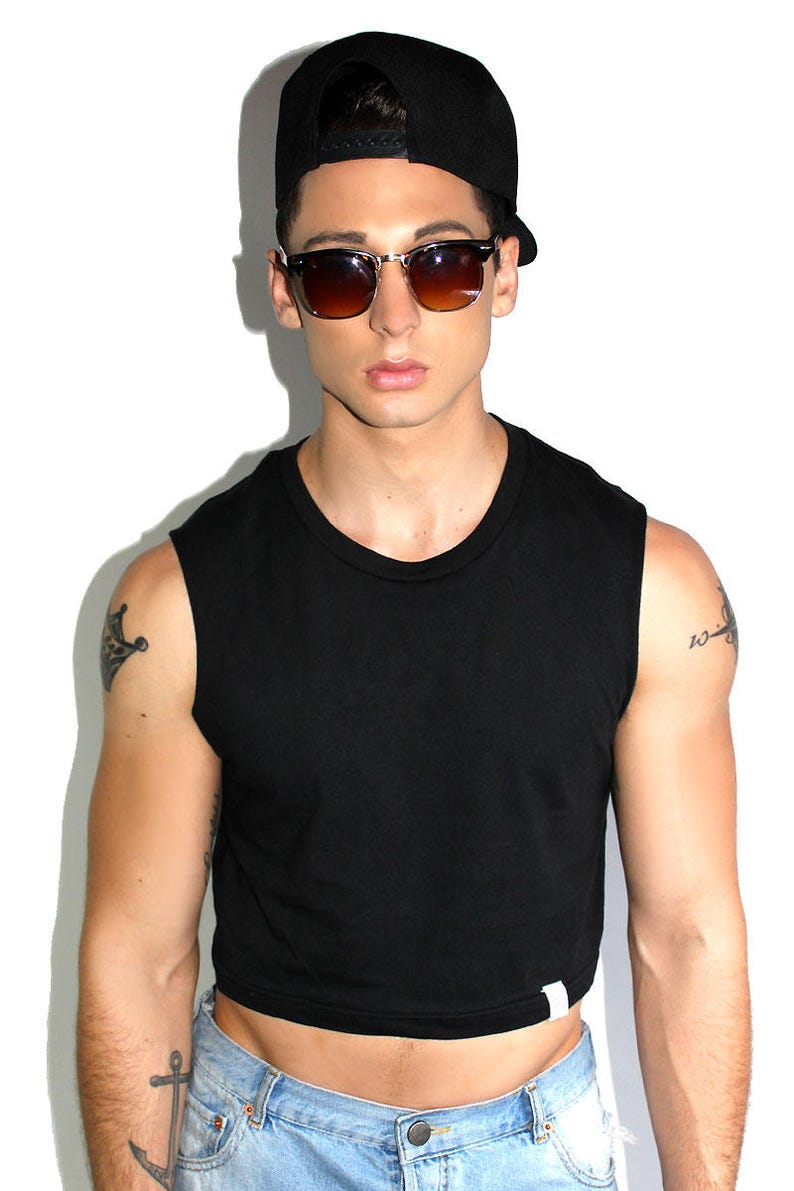 Marek+Richard Core Crop Tank-Black, $47.24 on Etsy.
How To Style A Crop Top: Crop Top, Baggy Bottom
When it comes to styling a cropped item, the key is to go with something loose and baggy on the bottom layer. For the best wide legged jeans and Y2K pants, click here.