FYI, the first step of having your shit together is having a structured space in which to do that shit collecting in.
You spend at least a third of your life in your bedroom (or, if you're me, a lot more that that, because I spend 99% of my life procrastinating watching YT lol) so you owe it to yourself to make your room a cool place to spend your time.
Want to make your bedroom that much sweeter? Here are some easy, affordable ideas to take your bedroom to the next level, that don't involve you watching seven seasons of The Block in order to learn how to lay parquet floors or some shit (I've done that and I still don't know what that is??).
Cool clocks
Alexa might be able to work as an alarm clock but sometimes ya just need to go back to basics. A really easy and useful addition to your bedroom is a funky clock.
A clock radio is an especially good call because waking up to music is infinitely better than waking up to your phone beeping (I've been Pavlovian-conditioned so that every time I hear 'Morning Flower' I feel sick).
This retro flip clock radio from JB Hi-Fi is an inexpensive and vibey option.
Mirror, mirror on the wall…
Seems like an obvious suggestion but mirrors are a great and practical addition to your bedroom decor.
Not only are they useful (to point out the prettiest thing in your bedroom is you!), but mirrors make a room feel bigger than it is by reflecting light.
This Hollywood-style vanity mirror not only looks sick, but its fifteen LED bulbs will make it a cinch to get ready. Plus you can dim the lights just by tapping the mirror!
Who's Scott Green?
Ok don't get it twisted: smoking weed in your room is a bad idea bc you'll never get the smell out, esp the curtains for some reason???
BUT introducing some indoor plants to your space is a great idea because they'll not only make your bedroom feel more inviting, they have tangible health benefits: plants make you more relaxed just by looking at them, and they can filter harmful toxins out of the air.
(Not about that green thumb life? Check out our guide to impossible-to-kill houseplants here.)
Spice up those walls
One of the most effective ways of refreshing a room's decor is to repaint, but this can be a pain in the arse. If you're renting, you might not be able to, either.
So rather than getting your apron on, why not invest in some cool wall hangings?
Posters don't cost a lot and can make a big difference to your bedroom, for example.You can always thrift or buy a cheap frame and frame your posters for added oomph. Why not a Call Me By Your Name poster? Protip: if you can't find what you're looking for in a store or online, hit up your local record or video game store because they often give away used or damaged posters for free.
One of my best tips is teatowels. Hear me out. Tea Towels are normally very cheap, they're harder to damage than posters, and come in great designs. A travel hack I've been using for years is to buy cool-looking tea towels when I'm overseas as gifts: tea towels are easier to pack into a suitcase than artwork or other souvenirs.Once they're up on a wall (particularly if you frame or mount them), no-one can tell that they're tea towels, just that you're well-travelled and have amazing taste.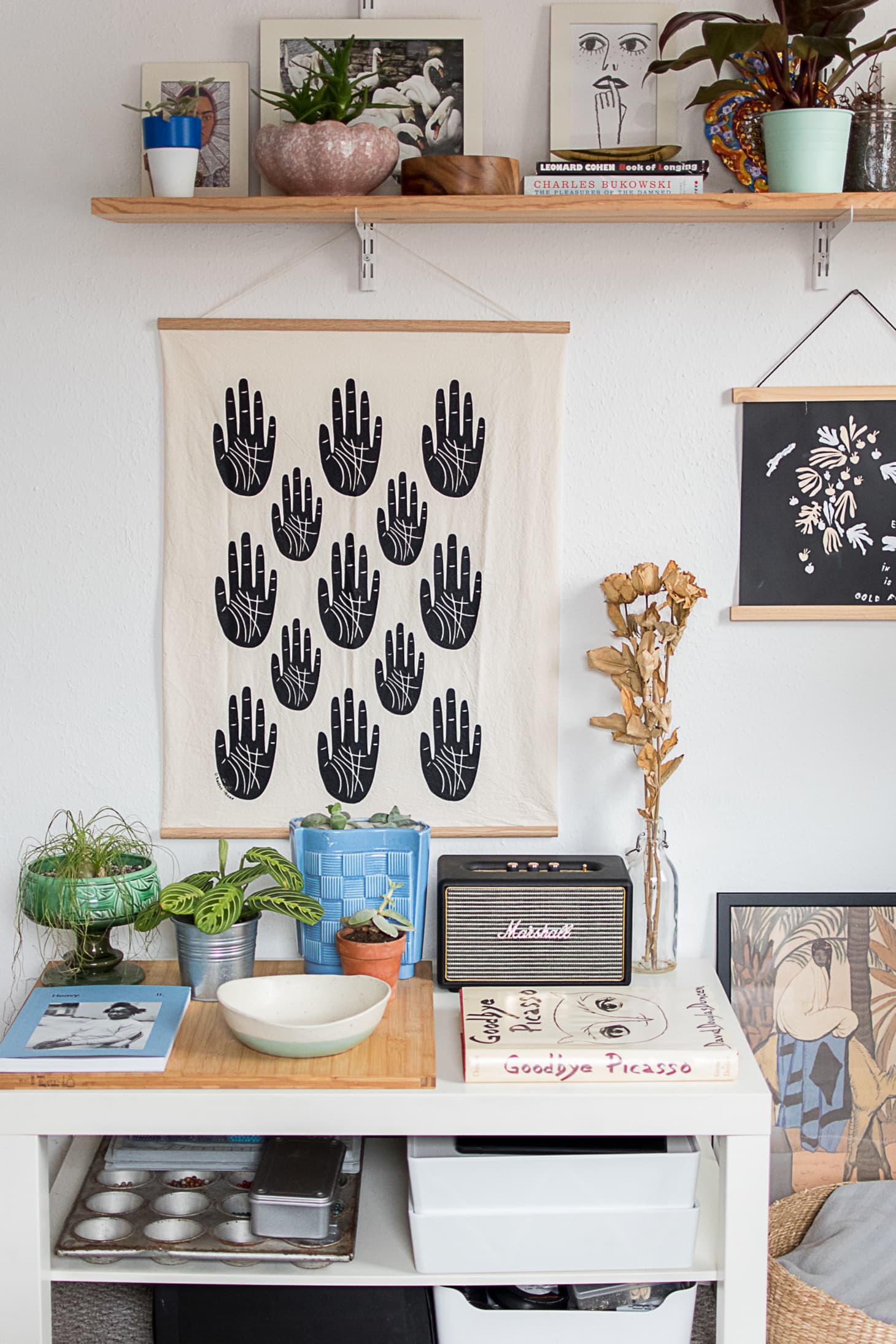 Make your bed!
Sorry to say it, but your parents were right on this one. Not only is your bedroom gonna look a lot nicer when your bed's made, but changing up your bedsheets/pillows/etc. is an easy way to change up how your bedroom looks. Think about it: it's your bedroom. In any bedroom, the thing that takes up the most space is the bed.
New linen can dramatically alter the way a bedroom looks (plus it's good to rotate bedsheets in order to avoid them getting l manky). Experiment with different colour patterns, textures or materials—see what suits you. It's easier to fix than replacing furniture or painting.
This company produces bed linen that's made from 100% organic cotton, environmentally-friendly dyeing techniques, and has beautiful patterns like the one on this quilt.
Pass the aux
Sometimes it pays to think not just visually, but aurally. As well as decor, you can make a bedroom feel heaps more cosy/welcoming/dare we say sexy, with some tunes. Make your auditory landscape as appealing as your visual one. Is it really a vibe-y bedroom if you aren't pumping some low-fi hip-hop beats to relax/study to? How else do people get shit done? It's truly a mystery to me.
If you don't already have a Bluetooth speaker, we like the Havana from EFM, which is also happily water-resistant and very durable for cute beach outings.
All of the lights (all of the lights)
Two words you guys: mood lighting. If you've done all you can in the way of posters/art/mirrors and you don't want to go through the trouble of painting, we suggest experimenting with lamps, wall lights and candles (just don't fall asleep with them lit, that would not be lit).
"Flex Mami made me do it," is a sentence that can be said about a lot of decisions in our lives, but not least among them is adding these hectic Nanoleaf lights to our walls. They are touch-controlled (!), totally customisable via your phone (!!) and also sync and light up to the music playing out of your aforementioned speaker (!!!). The only downside is how many hours you're gonna lose hypnotised watching the lights playing Aqua.
Lead image via Adrienne Salinger photography.